October 22, 1999
"The 'HORN' Show"
Severe Tire Damage Theme / Purple Toupee / She's An Angel / S-E-X-X-Y / Particle Man / Birdhouse In Your Soul / Shoehorn With Teeth / Radio They Might Be Giants / Radio TMBG (country version) / Cyclops Rock / Spiraling Shape / Your Racist Friend / Mr. Klaw / Older / Twisting / Why Does the Sun Shine? / Chess Piece Face / Whistling in the Dark / She's Actual Size / The Guitar / No One Knows My Plan / Turn Around / Doctor Worm / Spy / Istanbul
This was the horn show. One of my favorite local bands You Were Spiraling opened up for them. They left the stage to the tune of "One More Song!" from the crowd after performing a rousing rendition of A-Ha's "Take On Me".
The velcro horns. From right to left, Dan Levine on trombone, the buried Jim O'Connor on trumpet, and the new ringer on tenor sax, Stan Harrison, the one reading sheet music. For The Guitar, Spy, and Chess Piece Face, John Linnell joined them on bari sax. This made for an 8-piece band that night!
It was great to hear Purple Toupee for the first time live. The night had a "Live in NYC" flavor, as in the famous Live Disc. The horn arrangements were exactly the same, especially with Chess Piece Face. Also it made it right hear songs like Racist Friend, the Guitar, No One Knows My Plan and Dr. Worm they way they are MEANT to be heard.
And speaking of No One Knows My Plan, no room to conga! I was front row center and decided that this would be my one night to buck the trend of never leaving the front and congaing. No one joined me. And there was no room to move. It is true, this cool New York s**t CAN go so far.
I had a personal moment tonight. Flansburgh wanted to play Radio TMBG a different way that night. He scoffed at my notion of ska.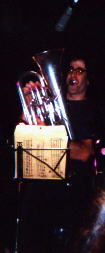 Dan Levine doubles on euphonium for Particle Man. He also brought it out for She's An Angel and the low D on Dr. Worm. Dan Levine is one hell of a player, better than me at soloing. On Istanbul he was hitting some soft high notes that you really need to squeeze out of it.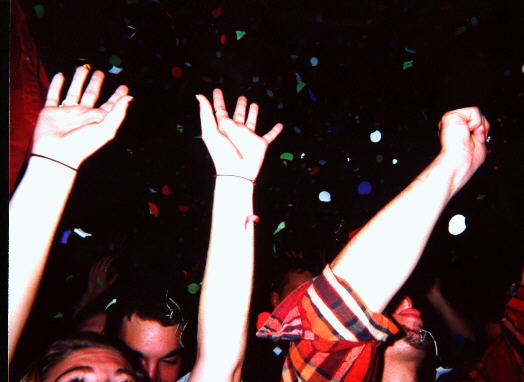 The confetti from another angle. This was the high-quality confetti that hung around for a long time.