October 23, 1999
"The 'NOW' Show"
Cricket Intro / Drinkin' / They Got Lost / (She Thinks She's) Edith Head / Rat Patrol / Operators Are Standing By / Certain People I Could Name / Radio They Might Be Giants / Cyclops Rock / Why Does The Sun Shine? / It's So Loud In Here / Reprehensible / Working Undercover For The Man / Letterbox / Thunderbird / Older / On The Drag / Dr. Evil / Dr. Worm / Finished With Lies / James K. Polk / Birdhouse In Your Soul / The Guitar / Counterfeit Faker / Istanbul (Not Constantinople) / Maybe I Know / Masshole (Band intros) / New York City
This was the "NOW" show. All new stuff except for the last 7 or so songs. Ironically, the largest crowd showed up to hear mostly stuff they don't know. The crowd only got going during Cyclops Rock, which has become the fan favorite of the new stuff. TMBG was very rusty tonight with the new stuff, which was to be expected as they've hadn't played most of the stuff before. Of the new stuff, there was the slow version of They Got Lost, a faster version of Certain People I Could Name, and Rat Patrol featuring Linnell's vocal stylings at the end.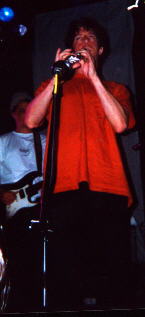 John Linnell brings out the clarinet for his solo in Reprehensible. He looks up just like I do during horn solos. The crowd went nuts for this solo, even though he squeaked. He rarely takes out a clarinet for live shows, let alone the bari sax. After the new stuff was finished, they played all of their "must plays" for the last seven songs. With a long wave, they were gone, and said goodbye to a wonderful week.