Billy Joel
Night of 2000 Years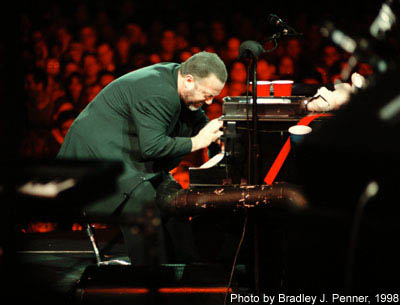 Well, I finally purchased my ticket to this special event. It took a lot of decision making, but I figured that I am only young once, and I have plenty of time to be worried about terrorists and Y2K and NYC!
I bought my ticket on December 27th, just 4 days before the show, that's right 4 DAYS! Whoever thought of buying a Billy Joel ticket 4 days before a show that wasn't from a scalper or off of EBay!
As I left, I had the Entertainer on my walkman. Then the next song on the album, Last Of The Big Time Spenders. How appropriate.
I'll have a full report come Jan. 1st! If you're there, I'm in section 61!!! Have fun folks!
P.S. A special thanks to this page for letting me borrow his graphics.
January 1st, 2000
Okay, everyone knows how the concert went, so here is my rundown of my night.
3:00 PM - I leave my house for the train station. All I brough was a cell phone and a walkman with Dream Theater - Scenes From A Memory inside. I didn't feel like bring Billy because I didnt want to get tired of him, and I could only bring one tape because I didn't want to bring too much stuff. I decided to dress up a little, white shirt and a music tie. :)
3:30 PM - I arrive at the train station in New Brunswick, and see that the train is totally packed. I decide to take the next one whichw as 20 minutes later.
4:03 PM - I board the next train, which is not nearly as crowded. In fact, it was a little less crowded than rush hour. I'm on my way, listening to Dream Theater all the way there.
4:59 PM - I arrive in New York. Not much to do here except hang out at Hooligans at Penn Stattion for a bit. I talked to a kid who had section 5 tickets. He decided to go to another bar to go girl-hunting. Another older lady also talked to me about her Billy experiences. It was a very nice way to pass the time as I had two hours to kill. All I had were a couple of $4.50 beers, I didn't want to get too drunk and forget the whole thing later!
7:00 PM - The ball drops on London where my parents were that night. I drank a toast to them.
7:10 PM - I leave the bar and head for the Garden. When I arrive, already a huge throng of people have arrived and were packing the souvenir booth. I fight my way there and buy a hat and the 2000 years T-shirt. Cost to me, $55. I also met some of my friends there who were sitting in the $75 range and talk to them for a while.
7:40 PM - I head for the doors, which were to open at 8. I bump into another friend I haven't seen in ages, and we engage in a good conversation. Turns out that her tickets were a Christmas gift. She also was in the $75 range.
8:00 PM - The doors open. No mad rush to get in though, very orderly manner.
8:15 PM - I find my seat. I'm 11 rows from stage right. I can see that Billy will be facing me when he plays. I put on my headphones to listen to the entire Dream Theater album once more.
9:15 PM - Album is almost done, and still no Billy. In fact, seats around me haven't really filled up that much. I continue to listen.
9:20 PM - I start to hear loud cheering. I take off my headphones and figure out it's a false alarm. I also see that some people who had $75 seats wanted to sit next to me. I didn't object to it, although an usher came by to quickly escprt them out. He was going to do the same thing to me until I showed him my ticket stub. Haha!
9:25 PM - A much better dressed group sits next to me. They seems to have lots of money, something I don't have. But it was good to hob-nob with the rich for a day.
9:30 PM - Beethoven's 9th comes on. Fully expecting Billy to come out to "The Natural", this was unexpected, but fitting, as Beethoven is his favorite composer. In fact, this night (no pun intended) would turn out to be a very Beethoven night, more on that later.
9:32 PM - Billy and the band take the stage. As well as his normal touring band, he added a few back-up singers and a brass section.
9:35 PM - "Happy New Year!" Goes into the 1st half of the set list. I'm already standing up.
1. Big Shot - I'm dancing and singing already.
2. Movin' Out (Anthony's Song) - Mark Rivera and Crystal Taliaferro are awesome on their saxophone duet at the end of this tune. By this time, a group of rich people have sat behind me, forcing me to sit down. Billy asks at this time, "How many of you are rich?" He also called those people who were to afraid to come chickenshit. He also asks the audience for a choice, and the subject was geographical location. I immediately shouted "Vienna!" He asked for Vienna, then Summer, Highland Falls. The New York crowd wanted to hear about the place up the Hudson, so...
3. Summer, Highland Falls
4. The Ballad of Billy The Kid - I've never heard this live, and with the brass section, it was increidble. Billy does the tongue clopping in the beginning as the piano turntable rotates. He plays Moonlight Sonata which leads into...
5. Don't Ask Me Why - Another song I have never heard live. Billy screwed up the ends of the verses never singing, "Don't ask for favors..."
6. Pressure - Billy moves to the back of the stage keyboard for this, where the people behind the stage go nuts.
7. Just The Way You Are - Billy brings out his original sax player, Richie Cannata who did the solo on the track for this. It's the shortened Greatest Hits I & II version. Billy smirks when he sings, "I'd said I'd love you, and that's forever." Richie remains the featured soloist for:
8. New York State Of Mind - Of course the Garden crowd goes nuts for this. One of the first number performed down a whole step to take it easy on Billy's voice.
9. I've Loved These Days - Billy said this song had a special meaning for that night, so that's why he played it. VERY rarely played anymore, I loved it. Most of the crowd sits down.
10. My Life - The crowd gets up again. A new couple has joined me and we all stand up and dance since the row in front of us got up. If they get up, we can get up, that's the rule.
11. This Is The Time - Another original soloist, this time guitarist Dave Brown. This was wonderful to hear with Dave, they seemed to still be clicking on this song.
12. Allentown - Crowd goes nuts for the whistle. The couple next to me and I are yelling out the "Staaaaaaaaaaaaaaaay". Billy plays a minute of a classical piece he is working on, and then says that is all you'll hear! He then goes into another piano piece....
13. Prelude/Angry Young Man - By now, I'm skanking! Rumors were flying around that Bruce would make an appearance, so to fool with the audience, Billy sings the first couple of lines to Born To Run.
14. Uptown Girl - (Why did I write this song so goddamn high?) Actually, it was also lowered a step.
15. Only The Good Die Young - How fitting for tonight for those people who said the hell with terrorists and Y2K. Let us die, only the good die young. After this song, Billy takes off for a 15 minute break, it is now 11:01 PM.
16. I Go To Extremes - I'm getting back to my seat. The couple is no longer there, in fact, no one is in my row, and no one is behind me. I'm dancing with room to spare. By the way, Billy is now in a tuxedo and he added a 4-member gospel choir to the stage. The lights dim and the sound effect of a helicopter occurs for...
17. Goodnight Saigon - His crew sings "And we woould all go down together!" At this point, the band is waiting for the live feed from ABC. Billy starts by singing a few words from "I've Got You Under My Skin". Then he tries to start a shuffle in C, but ABC cuts in, so we get, with Billy on (sound turned way down) guitar...
18. We Didn't Start The Fire - The girls in front are surprised that I am singing every single word. One of the back-up singers gives me a "Nice job" for singing and skanking to the entire song.
19. Big Man On Mulberry Street - Sounds sweet with a full horn section. Billy didn't think so though. "Why is it every time we do this song we seem to get into some kind of f**king trouble?" At they end, he put it bluntly, "That sucked!"
20. Miami 2017 (Seen The Lights Go Out Of Broadway) - Another New York song. How appropriare for tonight too! I loved this song live, they just torn the house down!
21. Two Thousand Years - The reason for this show. Should have been a single, but Columbia didn't think it had legs. I tried to get WPLJ to play it, but all they did was mention that he played the song in Atlanta. This song would have been a much better choice to overplay that Kenny G's Millennium Mix. What a thrown together song. Anyway, he timed the song perfectly to end with just 15 seconds to midnight. This song was also performed a whole step down.
22. Auld Lang Syne - For 1999 into 2000, a no brainer. Happy new year!!!
23. The River Of Dreams - Lullabye has a ??? on the list, so I guess they didn't have time to do that before this. During his trademark stop, he went into "Na Na Na Hey Hey Hey Goodbye", before returning for the rest of the song.
24. Purple Haze - Billy playing Jimi Hendrix on the guitar (Yeah right!). This was really noodling waiting for another ABC live feed.
25. Scenes From An Italian Restaurant - Once again with the brass section. This song sounds better every time I hear it. A very exciting teeny-bopper though Billy was a Backstreet Boy at the end of the song and jumped him!
26. Good Times, Bad Times - Now we are getting into our fun covers segment. First this trinket by Led Zeppelin.
27. Suspicious Minds - Something for the over 50 crowd.
28. Dance To The Music - This was amazing. They were all going nuts on this one. Pure rock 'n' roll and spontaneity!
29. Honky Tonk Women - One more for the road, for the over 40 crowd.
30. Still Rock 'N' Roll To Me - Back to the hits. Of course, he lets the kid in front sing the last line.
31. You May Be Right - Always a rim rocker. Turning out the lights (QUICKLY! Don't want them panicking!!!) Billy takes off at this point. The crowd starts chanting, "Let's Go Billy!!!" Everyone is standing!!!
32. This Night - Everyone is sitting. That why Billy can't do obscure songs, people don't know them, so they sit down. Not me, I was standing up, what a treat!!! Good thing I didn't glance at the set list those girls in front of me already had!!! This song benefited from the gospel choir. This was also performed a whole step down.
33. Souvenir - Another treat for those 1,000 people who know songs that are not on Greatest Hits I, II, III. Very fitting song, although Billy kind of screwed it up. But we'll forgive him. :)
34. Piano Man - You know the drill, he barely sang the song. Although beforehand, Liberty DeVito was a riot. He was diving into balloons, "dubbed" Billy with the harmonica strap. Then he put two balloons under his shirt and laid on the piano like Michele Phfiffer. VERY funny! Everyone was in a celebratory mood. Oh, and another girl jumped Billy, hehe. With that, one of the stage hands said, "Don't take any shit from anybody!" and it was a night as Billy left to chants of "Let's Go Billy!" again. It was 1 AM.
1:15 AM - I boarded my train home, how easy was that? Train trip very uneventful, once again, less crowded than rush hour.
3:00 AM - I arrive at home. I watch Billy Joel on videotape. Then I go to bed.
There is my night, and what a memorable might it was.
This night can last forever.