Budgiedome Information
Location: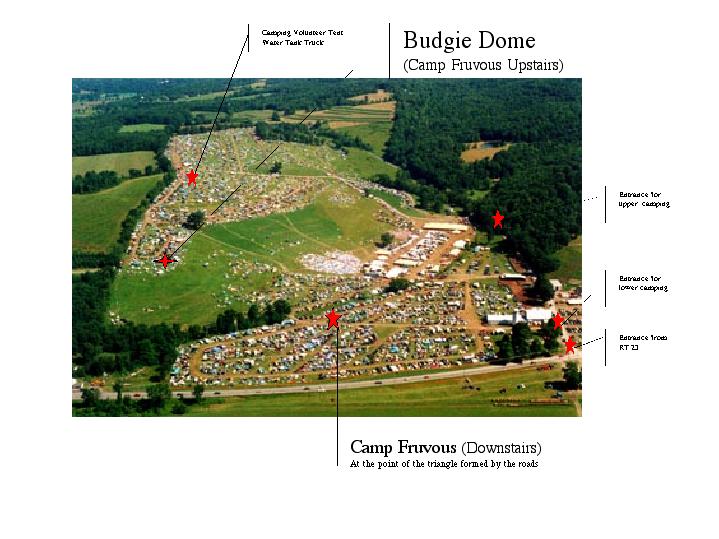 From this overhead photo of Falcon Ridge, you can see the entire lay of the land that is Long Hill Farm in Hillsdale, NY. Note where Lower Camp Früvous is, at the point where three roads meet to form a triangle (nicknamed the "Triangle Of Pleasure"). Lower camp has the advantage of a shorter walk to the main stage, and not having to walk up and down the hill many times during the day. It is also very helpful for quiet camping, for those who like to sleep at night.
To get to lower camp, you simply make a left upon entering into the lower parking at go towards the back.
Upper camp has the advantage of having a great view of the festival, being able to hear the main stage as clearly as being downstairs in front of it (The hill is a natural ampitheater), and being on-site for the numerous jam sessions. Just beware that if you camp up here, you won't get much sleep as it is noisy until 3-4 AM.
To get to upper camp, where the Budgiedome is, you must go past the farm and make a left where the volunteer tells you to. Then head up the hill to the end, make another left, and go all the way to the end paralleling the tree line. To walk up there, just walk owards the left side of the hill. Last summer we installed beacon lights and a large Budgiedome sign to help people find the place, which is very handy when looking for it in the dark.
What you need to camp:
The website kept by a member of the Dar Williams list explains this the best.

The big points are that you need the 3-day camping ticket in order to camp. Also, try to come on Thursday afternoon as this effectively lengthens the festival and gives you time to meet people before the music begins on Friday.
About the Budgiedome itself:
It is essentially a communal space for people to chill out and take in the music while underneath the shade from the sun and rain, and a performance space while the main stage is quite, be it amateur musicians jamming to songs they like, or professionals playing a few songs at night.

Here is what the Budgiedome is made of, as provided by Steve Martin:

Dome Construction materials:

20' x 40' heavy duty silver sunblock tarp
90' of 2" PVC schedule 40 pipe cut into 9 10' lengths
10' of 2.5" PVC sched. 40 cut into 6 18" lengths
Rope, 400'
30' of 1/2" rebar cut to 2' lengths for stakes
Additional large tent pegs
Caution tape to mark site.
Duct tape (All pay homage to duct tape)
Various little clips and rings to attach rope to PVC
Lots of bungee cords

Tools needed:

step ladder
Big mallet to drive in rebar stakes.

Tips which spared some mishaps:

Use bungee cords, don't tie tarp to frame - when the tarp lifts in the wind it won't lift the PVC off of the stakes.
Caution - rebar very easily cuts and scrapes skin.
Use lots of stakes and bungee cords. It survives the wind much better.
Mark the ropes and bungee cords with something. People tended to trip over the ropes.
History Of The Budgiedome:
Falcon Ridge 1999:
Debut of Camp Früvous. Camp set on 2nd ridge behind big tree next to the Front Porch.
Falcon Ridge 2000:
Debut of the Budgiedome!
Steve Martin says, "Driving up to FRFF the PVC pipes looked like a rocket launcher was on top of my vehicle."
Performances:
Russell Wolfe CD Release party.
Christine Abbot
Kevin So
Butch Ross
Christopher Williams
Adam Brodsky
Steve also says, "A big thanks goes to Russell for inviting people to play at the Budgiedome."
Solar shower added by Neal.
Moxy Früvous mentions Camp Früvous during their set: ""Camp Fruvous is their name/Camp Fruvous, a little insane/Camp Fruvous, they're out in the fields/Camp Fruvous, SWARMING THE NIELDS!!!!"
Falcon Ridge 2001:
Performances:
Russell Wolff
Butch Ross
Eric Schwartz
Adam Brodsky
Butch Ross got a gig after playing the Budgiedome!
Falcon Ridge 2002:
Many additions to the Budgiedome including:
Large Budgiedome sign.
Beacon lights for people to find it.
Flag Pole with Camp Lori & Steve flag and a Canadian flag, completely with a daily morning flag raising ceremony.
Recorded Budgiedome sessions for the amateurs.
Performances:
Russell Wolff CD Release Party
David Morealle
Butch Ross
Eric Schwartz
Christina Abbott
Adam Brodsky
And many others....
Da Vinci's Notebook also makes a non-performing appearence at the dome, and thanks Camp Früvous during their main stage set.
Budgiedome Rules:
Rules have been laid out for what is acceptable here, and they have been listed as follows by Lori and Steve Martin, the proprietors of the Budgiedome:

Everyone bring your own seating, or sit on the ground. Not on someone else's cooler, unless they offer it. Not in the air chair, for more than a few minutes at a time. If you'd like to use someone's seat, ask.

Everyone bring your own food and water. Once again, ask if you'd like to have someone else's.

Don't expect other people to clean up after you, or provide you with free snacks or other items. If it's an emergency -- you have a crashing headache, and you wonder if anyone has two aspirin -- fine. Everyone forgets stuff, or simply doesn't plan on a headache. But if there's something you're going to need or want repeatedly throughout the weekend, either bring it, or find a ride into Hillsdale and buy it.

Help with assembly and/or breakdown of the central camp. If you can stay late on Sunday night, this is particularly helpful, and fun too.

Help with shower-water acquisition if you're going to use the solar shower that the Budgiedome provides.

If you bring a propane canister with you, or a lantern, or camp supplies like paper towels and baby wipes and t.p. and paper cups, you earn brownie points.

No illicit substances at the Budgiedome.

If you are jamming, or otherwise creating music or performance, please be considerate of the neighbours, and for that matter other Budgiedome inhabitants who may be wanting to rest, or enjoy the sounds Down Below from the shade Up Above. Take turns, and if it's a sing-along include material that more than a few people know. Should pro musicians show up at night, they're the ones who get to perform.

This plan worked out very well last summer. The set jam times at the dome appear to be whenever the main stage is quiet. This means all day and night Thursday, and main stage quiet times on Friday, Saturday, Sunday, starting around 9-10 AM. If you want to jam while the main stage is active, and this worked especially well for me and was a lot of fun, go away from the Budgiedome to a section where the tents aren't. This means where the hill starts to slope down to the road.

If pros show up and wish to play, they get to play. I've learned that Budgiedome performers have gone on to main stage sets like Christopher Williams, Kevin So, and Eric Schwartz, so you may be seeing someone before he/she was "big".

Also, as per last year, Sunday morning's jam ends with "The Drinking Song".

If you decide to personalize the Dome walls with your artwork, try to make a remotely artistic contribution and not a misspelled barely-readable scribbling.

In regards to tarp space out at the main stage, this has also beena major sticking point. Unrelated to the Budgiedome, this is still a hot topic. People get up at the crack of dawn and take part in the land rush on the main stage area in order to get tarp space, so if you want to be there for the big night of music (Read: Saturday night), you had better get space for yourself. You may luck out and find an empty spot, but it is not guaranteed, as it wasn't in 2001 for Dar Williams's set. Do yourself a favor and guarantee yourself a spot if you can. If not, find an empty spot at your own risk.